Invention
Downhill Hiking Shoe
The innovative downhill hiking shoe simplifies walking downhill through its bulge on the sole and thus ensures a gentler descent.
This invention effectively prevents the knee & joint pain that often occurs when walking downhill. Due to the more horizontal stepping surface of the innovative sole, the knees are less strained. The shoe can also minimize muscle soreness after a hiking trip.

The Innovative sole
Small springs are integrated into the sole at the height of the bunion area. These are fixed with a stable plate inside the sole. 

By pulling a buckle the springs are released and the flexible latex sole expands, bulding a bulge. An additional cushion is activated, which relieves the foot when walking downhill. 
No matter what inclination you go downhill, the spring support extends to rolling over the toes and guarantees a gentle knee-joint load.

Advantages of the Downhill Shoe
Benefits
Application
Downhill Hiking shoe - How it works
The downhill hiking shoe provides a more pleasant hiking experience and makes the descent much easier due to the suspension.

Image 1
Uphill the buckle is closed & the springs are held.

Image 2
At the top you can easily open the buckle.

Image 3
When going downhill, the springs are extended and yield slightly under pressure.
Image 4
By firm pressure from above (rising) the springs contract & you can close the buckle again.
Property Right: GER Patentregistration
Official File reference: 10 2020 125 146.7
Date of registration: 25.09.2020
Principle claim: For a shoe (1) with a sole (2), a bulge (5) can be created on the underside (3) of the sole (2) to facilitate walking downhill.
Reference sign: Shoe (1), sole (2), underside (3), base (4), bulge (5), spring (6), cover plate (7), latching mechanism (8), actuating element (9), heel (10), ball area (11), elastic material (12), latching tongue (13), latching nose (14), latching slide (15), leg (16), hand (17); double arrow (R), arrow (B)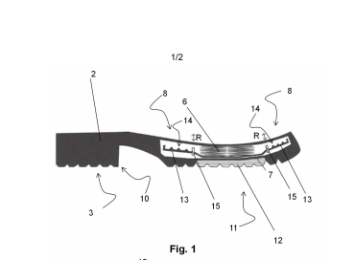 Fig.1
Eine Sohle eines Schuhs im Querschnitt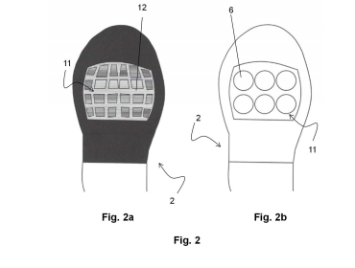 Fig.2
Die Sohle in zwei Ansichten von unten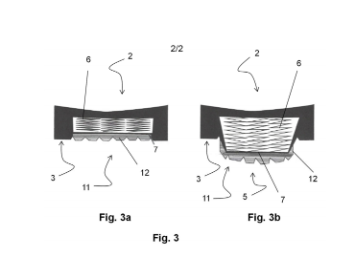 Fig.3
Die Sohle in zwei weiteren Querschnitten, und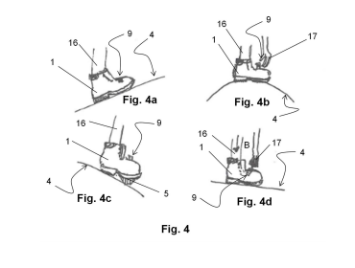 ARE YOU CURIOUS ABOUT THIS INVENTION?
DO YOU STILL HAVE QUESTIONS?
We would be happy to provide you with additional information material or clarify open questions with the inventor for you. Simply contact us and we will be happy to support you.

Contact us

JMW INNOVATION GMBH

jmw Innovation GmbH has been successfully implementing and marketing ideas at two locations (Salzburg/ Berlin) for over 20 years. Thanks to our many years of networking, our passion for new ideas and our experienced employees, we are THE first point of contact for new ideas in the German-speaking world.

Website
www.erfinderberatung.com
© 2021 All rights reserved.